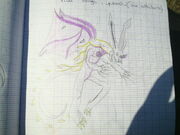 Vilar is a mysterious Bakugan that was thought to be Darkus.
Information
Edit
Its is unknown what kind of creature Vilar ressembles , but he is said to be related to Wavern, thus he should have dragonic features or should have no attribute.
Vilar is not available for use in battle yet, but when he is, he will have 1500G's.
AbilitiesEdit
Silence Fail: Negates any ability or ability chain.