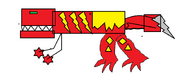 Tyra Thunda is T-rex-like Bakugan. He's a Pyrus Bakugan.
Information
Edit
He's a Dinosaur-like Bakugan who his counter part is Trykero and Pteragor.
He's 1000 Gs. Anyone can use this Bakugan. When you have Trykero and Pteragor, You can create Olozon.
AbilitiesEdit
Thunder Part: Adds 500 Gs to Tyra Thunda.
Soar Cyclone: Subtracts 500 Gs from the opponent.
Immortal Giant: Double Tyra Thunda's Gs.
Fusion AbilitiesEdit
Counter Boost: Adds 3000 Gs to Tyra Thunda. (Can only be used after Thunder Part is activated. And you must have Trykero and Pteragor)