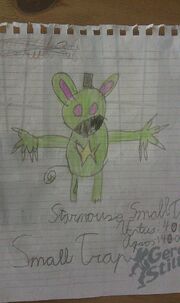 Starmouse is a Bakugan Trap that is available in Aquos and Ventus.Its a Mouse/Ninja like Bakugan that loves to fight.
Information
Edit
It uses its extendable claws in battle to deal damage from a longer distance, it can run at super speed. It can hear enemies from miles away with its large ears. It has a mini Boomix-like blaster on top of its head .
Its Ventus variation in normal game play changes your Bakugan to Pyrus or Haos, as for Aquos it changes to Darkus and Subterra. In NV play, both variations have 400 Gs.
AbilitiesEdit
Shine Star: Adds 300 Gs to Starmouse
Star Blast: Adds 400 Gs to Starmouse
Star Scar: Nullifies the opponent ability
Silent Shadow: Nullifies the opponent Gate Card and transfers 200 Gs from the opponent to Starmouse
Mega Blaster: Nullifies the opponent ability
Claw Ripper: Subtracts 200 Gs from the opponent
Star Beam: Subtracts 300 Gs from the opponent
Ad blocker interference detected!
Wikia is a free-to-use site that makes money from advertising. We have a modified experience for viewers using ad blockers

Wikia is not accessible if you've made further modifications. Remove the custom ad blocker rule(s) and the page will load as expected.