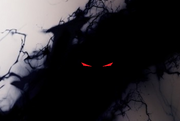 His Attribute is unknown, but it could be Darkus.
He has 10 Gs.
Information
Edit
Nobody knows his real form. We can only see smoke around two red eyes.
He was only made in figure, as a Pyrus and Darkus Bakugan.
Abilities
Edit
Eater Power: Swap the power levels.
Demonic Nightmare: Prevents the opponent from activate any abilities.
Ghost Ground: Prevents the opponent from opening his Gate Card.
Ad blocker interference detected!
Wikia is a free-to-use site that makes money from advertising. We have a modified experience for viewers using ad blockers

Wikia is not accessible if you've made further modifications. Remove the custom ad blocker rule(s) and the page will load as expected.