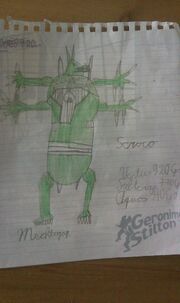 Scroco is a Mectogan that partners Nyanja in battle.
Information
Edit
Scroco is a Mechtogan of extreme vigour in battle, he has a large cannon in the middle of his chest. He uses his four arms equipped with hands with viciously sharp claws to dice his enemies in to dust.
In the game he has 2000G (NV play).
Abilities
Edit
Grapple Down: Transfer 600G from the enemy to Scroco
Power LAZER: Scroco gains 800G's
Ultimate LAZER: Scroco gains 500G's for each of the users Support Pieces or Bakugan in this Battle
SNAP (Snazzy Ninja Attack Pistol): Scroco Gains 2000G if your Bakugan has less than 500G's