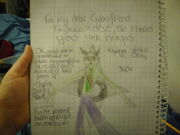 Nyanja is a cat ninja Bakugan, he can only be used in Ventus.
Information
Edit
Nyanja is a cat-like Bakugan with amazing speed and courage , he is the most honorable of Soldiers. He uses the giant shuriken on his back to slice and dice his enemies in to dust. His claws are great in a hand to hand battle. He can blend in to the shadows to launch a great sneak attack. It combines with Infurnut.
As written in the picture he is only to be used by Taylean 2002 you must have his authorisation to use this Bakugan. As also said in the picture its only available in Ventus and has 960G (900 with NV rules).
AbilitiesEdit
The abilities that Nyanja uses are ALL exclusive to him (except Bond of Friends and Team up of Friends and Brothers), and here they are :
Hyper Slash: Adds 300 Gs to Nyanja and nullifies the opponents Gate Card.
Never-ending Nyan: Transfers 200 Gs from the enemy to Nyanja.
Gust Shuriken: Nyanja gains 400 Gs.
Star Blade: Negate the opponent ability.
Ground Cutter: Negate the enemies gate.

Ninja Technique: Grand Shuriken : Tranfers 400 Gs from the opponent to Nyanja.
Star Slash: Adds 100 Gs for every Bakugan on the field.
Ninja Technique: Spin Slash: Transfers 500 Gs from the enemy to you.
Supreme Lightning : Adds 400 Gs to every one on your side.
Power of the Angels: Adds 200 Gs for every ability the enemy uses.
Bond of Friends: Gives a Bakugan of Charlie Abbott 1000 Gs if you are battling with him or just staying out of the game.
Chain On: Adds Chainer to the Battle.

Wasp Attack: Adds Wasparius to the Battle.

Spider Attack: Adds Terraspin to the Battle.