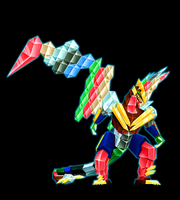 Information
Edit
He is a cristaline Bakugan able to change in all Attributes using his abilities. He has blades on the wings and the tail. He has spikes at the tip of the tail. He is very geometric.
He has an Attribute wheel, only in Pyrus and Darkus. He has 900 Gs.
AbilitiesEdit
Mirage Striker: Nullifies the opponent's ability and prevents them from activating new ones.
Aqua Sheild: Nullifies the opponent's ability and adds 700Gs to Multi Rubanoid.
Hyper Destruction: Adds 600Gs to Multi Rubanoid and allow him to change attribute.
Fusion AbilitiesEdit
Fusion Abilities can only be activated if Hyper Destruction is activated.
Pyrus Blast: Changes the attribute to pyrus and adds 800Gs to Multi Rubanoid.
Subterra Destroyer: Changes the attribute to subterra and adds 1200Gs to Multi Rubanoid.
Haos Kneel: Changes the attribute to Haos and adds 1000Gs to Multi Rubanoid.
Darkus Nightmare: Changes the attribute to Darkus and adds 1300Gs to Multi Rubanoid.
Aquos Tornado: Changes the attribute to aquos and adds 1250 Gs to Multi Rubanoid.
Ventus Revolution: Changes the attribute to ventus and adds 1400Gs to Multi Rubanoid.
Mega Fusion: Multi Rubanoid automatically win by 1350Gs of difference but can only eliminate one bakugan at a time.(This abilitiy can only be activated if all the others abilities has been activated.)