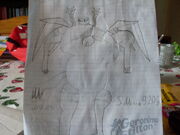 Inkor is a Bakugan that is only available in Subterra and that can only be used by Charlie Abbott.
He has 920 Gs.
Information
Edit
Inkor is a muscular Bakugan that pummels its enemies. It has large wings that allow him to fly with incredible swiftness. He also has a forked tail, and two serpentine heads with venemous fangs. He has a body that can turn into a mirror-like surface that make the enemies attacks, rebound.
AbilitiesEdit
Mirror Move: Copy`s the move of the enemy.
Stone Destructor: Inkor subtracts 400 Gs from the enemy.
Demonic Earth: Negate the enemies ability
Bond of Friends: Gives a Bakugan of Taylean2002 1000 Gs if you are battling with him or just staying out of the game.
Stone Cutter: Negate the effects of the gate card
Terra Restorer: Re-activate the gate card
Buster Destroyer: Negate the enemies ability and Inkor gains 600Gs
Smash Hammar: Transfer 500 Gs from every opponent to Inkor
Terra Firma: Nullifies the opponent ability
Mirror Body: You benefit from the ability instead of your opponent
Volcanism: Adds Pyrus Gouingol to the battle.
Growing Earth: Allows another Bakugan to be played by the user.
Power Terra: Adds 600 Gs to every ally and Inkor
Destruction Impact: Negate the enemies ability
Ad blocker interference detected!
Wikia is a free-to-use site that makes money from advertising. We have a modified experience for viewers using ad blockers

Wikia is not accessible if you've made further modifications. Remove the custom ad blocker rule(s) and the page will load as expected.