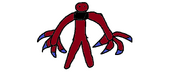 Ghost Dragonoid (original version: (ゴスト ドラゴノイド)Gosuto Doragonoido) is a Bakugan and the Fear Ripper mutation. He's 1000 Gs and his attribute is Darkus/ Pyrus Hybrid Bakugan. Barcibal called him, G - Drago.
Information
Edit
He's the powerfull Bakugan used after the next battle of Barcibal. He's Fear Rippers mutation after Darkus Fear Ripper touched the Perfect Core energies and became Ghost Dragonoid. He have a special ability to copy all the ability of the Darkus and Pyrus Bakugan without using an ability Copycat.
AbilitiesEdit
Tri - Gunner: Adds 300 Gs to Ghost Dragonoid
Night Explorer: Subtracts 300 Gs from the opponent.
Misty Shadow:Brings the opponent back to their base level.
Darkus Driver: Adds 200 Gs to Ghost Dragonoid.
Black Maiden: Nullifies the opponent's ability.
Darkus Thunder: Subtracts 200 Gs from the opponent and adds 300 Gs to Ghost Dragonoid.
Battle Marionette: Allows you to call an opponent's Bakugan into Battle.
Boosted Dragon: Adds 100 Gs to Ghost Dragonoid.
Fire Wall: Nullifies the opponent ability and transfers 50 Gs from the opponent to Ghost Dragonoid.