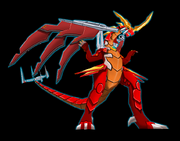 Spectra won the battle with Dan and Drago become Cyborg Dragonoid.
600 Gs, only in Pyrus.
Information
Edit
He has blades and cannons on the wings and the tail. He has very long claws on the hands and the feet.
He is in Pyrus, Aquos, Subterra.
Pyrus: 860 Gs.
Aquos: 810 Gs.
Subterra: 840, 850 Gs.
AbilitiesEdit
Defuse Quasar: Brings the opponent's power back to their base level and adds 300 Gs to Cyborg Dragonoid.
FARBAS: Heals all damage done to Cyborg Dragonoid and keeps his power equal to the opponent's if it is higher than his.
Explosion Lambda: Nullifies all of the opponent's abilities and adds 500 Gs to Cyborg Dragonoid.
Chaos Shock Cannon: Subtracts 200 Gs from the opponent.
General Quasar: Adds 200 Gs to Cyborg Dragonoid.
Strike Dragon: Makes the opponent's ability useless and transfers 400 Gs from the opponent to Cyborg Dragonoid. (Perfect Core)
Dragon Contender: Brings the opponent's power level back to their base level and adds 600 Gs to Cyborg Dragonoid. (Perfect Core)
Maximum Dragon: Transfers 500 Gs from the opponent to Cyborg Dragonoid. (Perfect Core)
​Fusion AbilitiesEdit
Dragon Clash: Transfers 400 Gs from the opponent to Cyborg Dragonoid. (Perfect Core)